Bellevue State Park (Dyas Unit)

https://iowastateparks.reserveamerica.com/camping/map_of_bellevue-state-park/r/campgroundMap.do?page=map&search=site&contractCode=IA&parkId=610146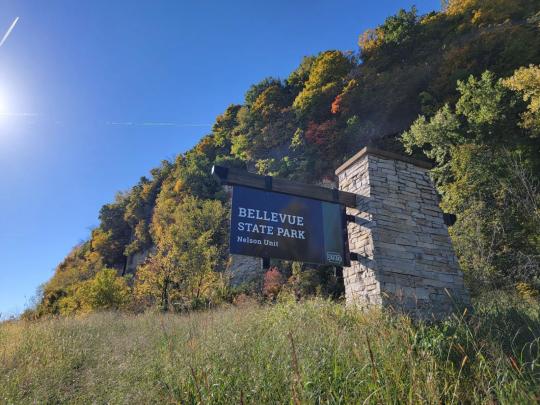 Experience Iowa's natural beauty and all the fun our state parks offer as you make memories with family and friends. With an array of activities for outdoor enthusiasts of all ages, there's something for everyone whether you're visiting for an afternoon or a week.
Offshore RV Park

https://offshoreresort.net/
Off Shore Resort is situated on the most scenic Mississippi Riverfront property in the upper Midwest and features a hotel, campground, state of the art outdoor pool and aquatics center, bar and restaurant and an event center. We are located just two-miles north of the beautiful, quaint riverside village of Bellevue, Iowa. Patrons may visit our resort by road as well as the mighty Mississippi to enjoy our hospitality. During the 2021 season, we have undergone extensive renovations across the entire property to provide a true Mississippi riverfront destination resort. Come check us out!
Pleasant Creek
https://www.mvr.usace.army.mil/Missions/Recreation/Mississippi-River-Project/Recreation/Pleasant-Creek/
The Pleasant Creek Recreation Area is rustic and relaxing with front row seats of the main channel of the Mississippi River. It is located 3 miles south of Bellevue, Iowa, along Highway 52. The campground has 27 first-come, first-serve campsites, drinking water, and vault toilets. There is no electrical service or flush toilets making this a perfect spot for primitive campers. The area has a sewer dump station and concrete boat ramp with direct access to the main channel.


Riverview Enterprises, LLC

https://www.facebook.com/RVBellevue
We offer multiple vacation rental options including rental campers, a riverfront cabin, and tiny home cabins all for nightly rental. We also have seasonal campsites along the Mississippi River and offer a few overnight campsites. Don't forget about our Pontoon Boat and Kayak rentals! Located just south of Lock and Dam #12, Riverview RV Park has access to some of the areas best fishing. Each camp site and vacation rental has amazing views of the Mississippi River and provides access to a private boat ramp & docks, as well as a pavilion overlooking the Mississippi River. Each site has full hookup for water and sewer. Wireless internet is also available throughout the entire park. Centrally located, Riverview RV Park & Vacation Rentals is your home away from home. It is within walking distance to food, entertainment, and Bellevue's historic downtown.
Spruce Creek Harbor

https://www.mycountyparks.com/county/Jackson/Park/Spruce-Creek-Park.aspx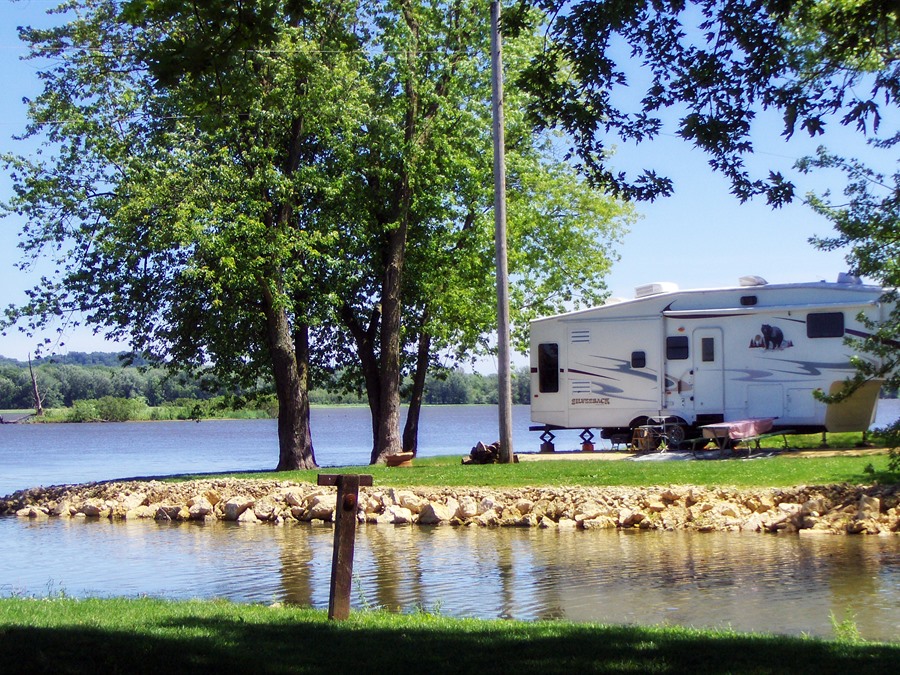 Spruce Creek Park, situated on the banks of the Mississippi River, offers a variety of outdoor recreation opportunities. Enjoy boating, fishing, camping and more while enjoying the scenic views of the mighty Mississippi. This 43-acre park offers a boat harbor, modern camping sites, showers and restrooms, shelters (available for reservation), and playground equipment.